Music lessons
I offer private 'one to one' and 'one to a few' music lessons along the Sussex coast and a little north of Worthing, Brighton & Hove, Lewes, Seaford, Eastbourne and Hastings areas. These are based around guitars and can venture off into various areas such as music theory, song writing, band skills and computer/mobile based recording. I teach all ages, abilities, styles and techniques.
Electric guitar

Acoustic guitar

Bass guitar
7010 private music lessons since records began! (Feb 2003 - Apr 2014)
Online
2020's Coronavirus pandemic sees us all reliant upon online services. Students and clients can still get plenty out of my services, almost forgetting that the tech is there in 1 to 1 lessons.
I can match your preferred tech or advise upon everything involved (a previous career in IT proves handy). My preference is currently Zoom or Skype but you may consider the various others including Facebook, Google, Apple Facetime, Instagram..........telephone?!
Online music and tech service examples:
Guitar, music tech and song writing - coaching, mentoring, transcriptions, arrangements, recordings, backing tracks.
Flexible lesson lengths and times.
Prerecorded video lessons, transcription and arrangement requests.
Live chats to work through personally.
Recorded lesson summarys and notes.
Recorded exercises and backing tracks to work with in own time.
Multiple camera angles, notes and screen sharing / control.
Music production - writing, recording, mixing, mastering, promoting.
Music project and file sharing.
Songs
Most students like to request songs that they want to play and we craft out the best way to learn for each individual. Through these requests I have a large archive of lessons that we regularly add to on my blog - you can follow 'About Plucking Times' at Tumblr, Twitter @pluckingtimes, Facebook and Google+
"Most of my lessons start with me asking Andy if we can have a go at a new song I have heard, so on goes the song and amazingly Andy writes down the chords as its playing maybe with a replay or two if the song has some unusual tuning or chords."
Latest transcriptions (show all)
| | | |
| --- | --- | --- |
| Artist | Track | Instrument |
| Theme from Frozen | Let it go | Acoustic |
| Rovio | Bad Piggies - Building | Acoustic / Electric |
| Rovio | Bad Piggies - Title | Acoustic / Electric |
| Simple Plan | Summer Paradise | Acoustic |
| Queen | Fat bottomed girls | Electric |
| Passenger | Rivers | Acoustic |
| Kate Daisy Grant | Open up your arms | Acoustic |
| The Killers | Human | Electric |
Structure
Each individuals lesson will tend to vary depending upon what they want to achieve and I'm open to a lesson being from a question / answer style session, picking a tune and seeing where we end up or where we work on a set plan from myself.
Scenarios could include:
Beginner guitarist looking to knock out some chords.
Hobby for child.....or adult reliving childhood.
Advanced guitarist needing to tidy up skills to get into a music school.
Singer wanting to accompany themselves.
Coffee and jamming/recording buddy.
Songwriter needing a new writing tool.
Band member wanting to tighten up playing and improve group.
To support the lessons, I carry various prepared sheets covering the following categories and we can work on these as the subjects arise, be it through a specific question or a song being learnt:
Exercises and warmups.
Chords.
Scales.
Techniques.
Theory.
Ear training and working out songs from their recordings.
Reading music - TAB / traditional notation.
Band skills.
Recording techniques.
We can learn songs in a parrot fashion for quick results and enjoyment or go into more depth to understand the theory and techniques that make a song sound like it does. A more in depth approach can speed up learning, help to memorise parts and assist in the understanding of further songs.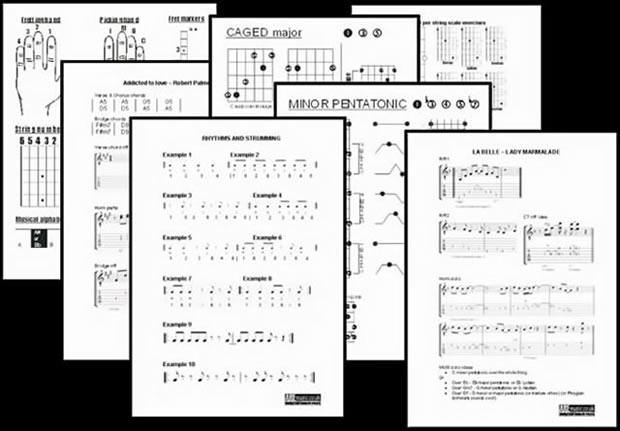 Music Technology
My music has always been partnered with computing and recording interests having been born into a household of guitars, 4 track recorders, keyboards, drum machines (and a tolerant mother). Hence I can support or focus some lessons on various music tech be it Apple with Garageband / Logic, PCs with Cubase or mobile devices and the plethora of music apps.
Qualifications
Professional Development Certificate in modern music - Distinction.
BSc in Computing with Mathematics.
Apple Teacher with Swift Playground Recognition.
Played guitar since I could hold one (~1984) - over 30 years of playing experience on electric / acoustic guitar and bass.
Regularly performing, recording and song writing with live bands and artists (see gigs) locally and occasional adventures further afield including USA, Malaysia, Singapore, Belgium.
Author of Xtreme Electric Guitar and Xtreme Acoustic Guitar tuition books/CD's- available in all good book shops.
Writer of articles for Total Guitar magazine.
Contributer of online lesson videos for ShowMeHowToPlay.com
Head of part-time courses at the Brighton Institute of Modern Music 2003/2004/2006, along with teaching group classes in guitar, live performance and running house bands.
Private guitar teaching since ~1996 (full-time musician since 2002).
Member of the Registry of Guitar Tutors.
"Without your input my son would not have developed the passion for guitar that he has and it has done wonders for his confidence. We feel very grateful to you for your fantastic support and the quality of your teaching. Now there's a testimonial for you!"
Deborah Clow
Parent of 2 students
May 2011
For a collection of references please click the scrapbook and give the student pages a visit below.
Bookings
Rates 1 hour - £30, 45 minutes - £25, 30 minutes - £20.
Flexible hours. Day / Night. Weekday / Weekend.
Regular bookings welcomed e.g. once / twice a week / once a fortnight or I am happy to be called upon when the need arises*.
Home visits along the Sussex coast and a little north of Seaford, Worthing, Brighton and Hove, Lewes, Eastbourne, Hastings areas or come to my home studio in Hastings. Visits further afield can be arranged at an extra travel charge.
Something a little noisier can be arranged at Monster Studios near Hove lagoon where we can make use of their soundproofed rooms with PA, drums and amps for a share of the room hire fee.
Option to meet up for a free chat / strum to see if I can help.
* I always aim to keep bookings flexible but it is very much appreciated if I am given at least 24 hours notice of a cancellation and that late cancellations are paid for in full.
Contact
For more information and to exchange telephone numbers just send me an email:
Andy Ellis
andy@AREmusic.co.uk
Congratulations / Good lucks
Abhi and Harisha - Grade 5 Acoustic guitar Distinctions.
Joe - Grade 8 Electric guitar Distinction.
Kaz - Grade 3 Acoustic guitar Distinction...........100% !
Tom - 6 years of Bass / Guitar / Theory lessons and leaving for Leeds University to study a BA in Popular music.
Olly - 5 Years of guitar lessons and now off to City College Brighton to study a BTEC in Music (Performing / Composing).
Alex - 3 years of Acoustic / Electric guitar and moving on to BIMM Brighton to study a Foundation Degree in Professional Musicianship.
Ade - Grade 8 Electric guitar Merit.
Joe - Grade 7 Electric guitar Merit.
Joel - Grade 4 Electric guitar Pass.
Student pages
Check out what some of my students past and present have been up to (I must confess that keeping these pages up to date gradually got out of control but I hope that they serve as some good examples to relate to):
No strings
I can also recommend teachers of other instruments.
| | | |
| --- | --- | --- |
| | | |
| Piano / Keyboard / Hammond | Vocals | Drums |