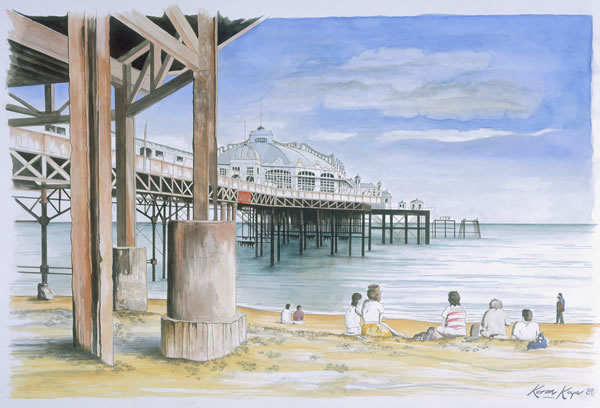 'West Pier' painting in watercolours by Kevan Koya

This painting of West Pier was my very first architectural piece painted in 1989 using combinations of two art mediums - ink and water colours.
Probably today I would have tackled painting this subject differently by solely using watercolours to give more depth and richness in colour, but it's not too bad for a first attempt and is certainly a landmark to the direction that my style of painting and subject matter was going to take.



West Pier
For many years
You brought so much pleasure and laughter
To Brighton seafront.
You resembled an arm
Raised in curious observation,
Pointing a finger across the channel
At passing ships on the distant horizon,
Enticing and tempting,
Visitors to share in your excitement;
To stroll and lounge on your trusted frame
And enjoy the summer's sun.
You once looked so elegant and proud,
In all your Victorian splendor.
Thousands of lights
Were carefully draped around your outline,
Following the contours,
And illuminating your graceful shape
Worn like jewels, sparkling with diamonds
Reflecting and shimmering
Upon the blushing sea.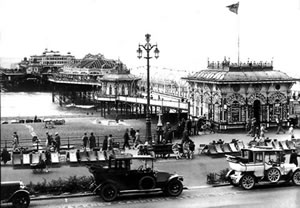 Through the gaps in your wooden flooring,
Could be seen the water in peaceful motion.
So gently it would swell,
Rising and falling
Breathing in, then slowly breathing out it's salty air,
Wrapping itself around your spindly steel legs,
It constantly reminding you of it's hunger
A relentless desire to consume.
Now disused
And very dishevelled from neglect,
Your weary frame has become
The landmark and resting place
For starlings to gather,
Flocking in their multitude,
Swirling and spiraling
Into what appears to be one living mass,
That constantly changes in shape,
Against the sunset sky,
Preparing themselves for that moment,
When suddenly they all take flight
For the long journey of migration.
No one, in your early years,
Could have imagined your painfully sad fate;
That raging flames, like frenzied piranha,
Would rip through
Your rotting wooden flesh
Stripping away all your dignity
Leaving only your rusted steel frame
Standing in the water.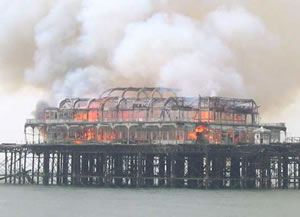 As a rusting island,
You look so pitiful and sad,
No more pointing out to sea,
But trapped in a meaningless limbo,
Being neither dead or alive.
If only we could help you now,
After all that you have given,
To put an end to your continuing indignity
Even the most fearsome of storms
And the many raging seas,
That have taunted
And battered you for all these years,
Have relinquished their hold
To help set free
Your now rotting corpse.
It's sad to think,
That even today,
There is nothing we can do,
But to leave you standing
In your cold watery grave
And watch you slowly, rust away.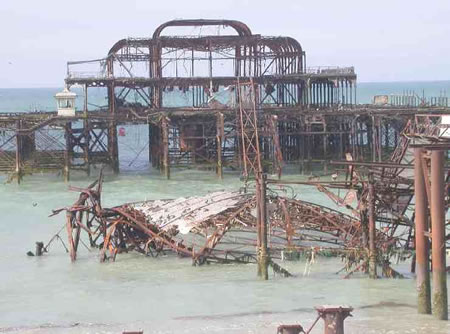 Words by Kevan Koya, September 2007