Singer Songwriter


Click YouTube to listen to songs by Kevan Koya


Kevan Koya

The left photograph is of Mouse Lane in Steyning. The second photograph was taken on my way to the recording studio. Both Mouse Lane and The South Downs inspired me to write The Black Wish Hounds.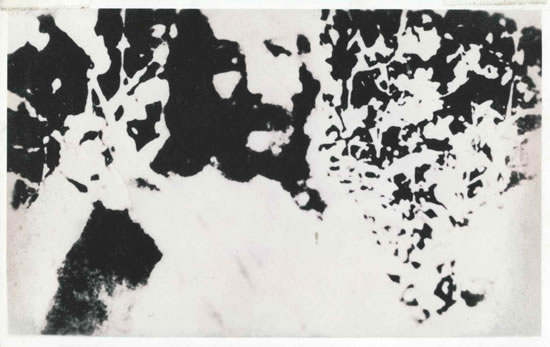 Image of Jesus Christ in the snow © copyright original photographer
My Dad, Rev Edwin Wilkinson was the vicar of a number of parishes in Sussex, from 1966 to about 1990 (Rye Harbour, Camber Sands and Westfield to name but a few). Many years ago, he was given an astonishing photo when he was in the parish of Westfield which shows an image, which is believed to be of Jesus Christ. The person that handed my Dad this photograph knew the photographer (whose name unfortunately is not known). This photograph was taken during Easter time, when there happened to be a heavy snowfall, which for that time of year is somewhat unusual. The photographer just wanted to capture the beauty of their snow blanketed garden and flower beds. There were no other persons present in the garden at the time the photo was taken, just the photographer. Prints were taken and the image of Christ was very visible in one of the photos, showing what looks like Jesus Christ with his right hand held up in a blessing, and for whatever reason I think this image was meant for the photographer or someone he or she knew. What is incredible about this black and white image is how clear it is, with the image being formed from the black and white shapes of garden and snow, making such a defined and unmistakeable image. It really is an astonishing photo which I hope will be seen and enjoyed by others.

Credits
A very very big thank you to some very special people that I have known for a while that have contributed in helping enrich my music:
Michael Casswell - Guitar

Big thank you to Michael Casswell who has played all the guitar parts on 2 of my albums 'The only living thing on Mars' and 'Heavenly Mortals' and a few other tracks in between.

Not only was Michael a highly acclaimed and accomplished guitarist (in other words Brilliant!) but also a talented singer songwriter and producer.

In the mid 90's, just before the untimely and tragic death of drumming legend Cozy Powell, Michael wrote and produced the last Cozy Powell album titled 'Especially for you' which was released on Polygram records.

Michael had a very impressive and extensive musical history, touring with some of the greatest names in the music industry such as: the Queen guitarist Brian May, Ronan Keating, Rosy Royce, Cozy Powell, UK based Japanese blues guitarist Saiichi Sugiyama (musician), Dean Freidman, Limahl (Kajagoogoo), Rhino's revenge band (bass player and drummer from Status Quo) and many more.

Michael's playing has been heard on countless TV ads, jingles, theme tunes and in the late 80's William Friedkin film 'To live and die in LA'.

Michael's extreme ability in mastering the guitar was such that there was nothing he couldn't play, from country to heavy metal, funk to swing jazz. Whatever song needed guitar parts adding Mike could play it.

I personally feel that one of the contributing factors that made Mike such an excellent guitarist was his ability to interpret with tremendous thought and sensitivity to what a particular song needs, not only in the style and technique of playing but also finding the right sound.

Every time Michael popped down to the studio he never ceased to amaze me at his care and professionalism in his guitar work, bringing the songs to life with his own unique style of playing.
Phil Williams - Bass
I would like to say a very special thank you to Phil for playing bass on my latest album 'Heavenly Mortals'. Phil is an exceptionally talented bass guitarist and musician, a true professional and a great pleasure to work with.

Phil is co-founder of The Satellites studio team and is also a long-term member of Tony Hadley's band. His experience in the live field is all-encompassing, ranging from world tours with Kim Wilde in the early 90's, to 'We will rock you' in London's West end.

Phil has served as a corporate musical consultant for Sony international's corporate events. He has also worked with Keith Emerson, Squeeze, Go West, Roger Daltrey, Rick Wakeman, ABC and Gary Barlow and is an active member of The Satellites studio team. His experience spans sessions work and composition for soundtracks, advertising, television and radio and has recorded bass guitar DVD's for 'Lick Library' and product endorsement for Yamaha spanning over 10 years.
Tim Bye - Drums
A very special thank you to Tim for playing drums on my latest album 'Heavenly Mortals'. Since working on this album I have had the great pleasure of working with such fine and professional musicians, Michael Casswell, Phil Williams and Tim Bye. Tim is also an exceptionally gifted musician, a great drummer and a pleasure to work with.

Tim began his career with Universal signings Un-Amercian, who toured the states throughout the 90's and were chosen by Pete Towsend to support The Who at Madison Square Gardens and the Hollywood Bowl.

Since then he has been very busy on the UK session scene, carving out a great reputation for his feel and song-driven approach. He works alongside other core members of The Satellites regularly, both live and in the studio.
Richard Naiff - Piano/Keyboards
A very big thank you to Richard Naiff.

Richard is an exceptionally talented pianist and flautist and has performed with the bands Soulsec, The Waterboys, Icicle Works and the Catacoustics to name but a few.

During the summer of 2009 Richard played the piano part to a song I'd written called 'I believe in you'. Since then he has played piano on another three songs from the Heavenly Mortals album 'Winters sky', 'Down to earth' and 'If only you knew'. These remaining tracks from the 'Heavenly Mortals' album will be released some time this year.
The photograph on the left is my friend Andy Ellis thinking about how many guitars to cover the floor with. To the right is the recording session of 'Sail Away' and 'Angel' with Richard Naiff and Andy in Pete Varkala's recording studio.
Andy Ellis - Guitar, Web
Big thank you to Andy Ellis who has designed this web site is also an exceptionally talented and gifted guitarist and has put down additional acoustic guitar parts on two tracks for the forthcoming 'Heavenly mortals' album.

Andy has spent the last few years working on a project with singer songwriter Abbo and plays alongside Paul Roberts (legendary ex Stranglers front man) for their band Soulsec, having recorded their latest brilliant album 'End Games'.

Also Andy is a very well respected guitar tutor having many pupils of all ages under his wing, has taught at the Brighton Institute of Modern Music , published tuition books for the Xtreme series with Sanctuary Publishing / Music Sales Group and recorded instruction videos for ShowMeHowToPlay.
David Grogan
One year into the recording of 'Heavenly Mortals' album in 2007, I happen to mention to a work colleague, Annie Grogan, that I had just started a substantial recording project of 12 songs, a project that would probably take a number of years to complete. I also happen to mention that it had been a lifelong dream to have my albums housed and presented with wonderfully designed covers, which I have always felt completes the work. Annie mentioned that her husband David was a book cover designer, who has his own business in London, saying that David would probably be able to design the cover for this album and she would have a chat with him. I was thrilled when Annie mentioned that David would be more than happy to do the cover design and then discovering the standard of David's work, I was certain that whatever he was to design would look fantastic! I felt very nervous when I had my first meeting with him to discuss ideas for the cover, but what became very apparent to me during this meeting was David's wonderful warmth and kindness which instantly helped put me at ease and from our conversation I discovered that we shared so much in common in what we liked musically and of course there was the art. Since David working on this album cover, we have developed a good friendship. I feel so very grateful to Annie and David for making what I thought was impossible, possible. I love David's work and he has now designed all my album covers. To find someone who can do the same standard of work as David's would be extremely difficult and this chance for me to get to know David came just at the right time and I'm grateful. David's company in London is called Head Design, www.headdesign.co.uk. His work is brilliant!
Pete Varkala
Pete Varkala I have known for quite a few years now. He is an exceptionally gifted producer, recording engineer and songwriter and a very competent and versatile musician playing guitars, bass guitar, piano and I'm sure I've seen him put his hand to playing the drums to.

Combining his talents with musician and songwriter Brian Powell and under the flag of their company 'KLIKTRAX' they composed bespoke pieces of music for film and television and supply many publishers and libraries as well as corporate clients.

I first met Pete in the late 90's. I had just completed writing an album called 'Stranger to love' and was then looking for a studio and producer to begin work recording this album.

I arranged a meeting with Pete at his recording studio to discuss the album and the ideas I had for it's production. Within a very short time of our meeting I knew Pete was the right person to record 'Stranger to love'. Since then I have recorded another two albums with Pete 'The only living thing on Mars' and 'Heavenly mortals'.
In all the times I have recorded with Pete I have felt that he has had a tremendous amount of respect for my work, listening to possible ideas that I may have and using his own ideas to bring out the best in the material. It's always a great pleasure working with Pete and I very much value his professionalism and judgment. If something doesn't work or sound right, he will say, which helps me feel more relaxed in being able to trust his opinion to strive for and to achieve the best results.
I remember in 2004 doing a recording project of a song called 'Please don't cry' which was accompanied by an extended instrumental version totaling eleven minutes in length which was to be used as a backing track for a video to promote a charity, based in Africa helping orphaned children called 'The friends of Sanyu'. It turned out to be the most difficult recording project that I have ever done, fraught with problems and being faced with so many challenges that at one stage I didn't think it would be possible to finish and it was very nearly scrapped. But stubbornly I wasn't going to be beat, I kept convincing myself that I knew I could do it but also thanks to Pete's understanding, support and encouragement the project was completed, leaving me feeling utterly exhausted but pleased with the end result.
The extended instrumental piece is probably one of my favourite pieces of work, with Michael Casswell's exceptionally haunting and wonderful guitar work, being the centre piece that runs through the whole track changing in mood and feel as it follows the changing structure and arrangement of the piece. Also what gave this piece an additional touch was Richard Holmes' superb piano playing. The combination of guitars and piano worked beautifully. It's a very dramatic piece of work and will be included on the re-released album 'The only living thing on Mars' which will be digitally re-mastered and will also include some other new tracks.
A photograph of myself with Richard Holmes
during the recording session of 'Please don't cry'

Michael Casswell during the
'Please don't cry' recording session
Richard Holmes has worked for the BBC and is an established recording artist and musical arranger / composer and on many occasions has worked at Abbey Road studio.
Doug Scarratt - Guitar
Doug Scarratt has played guitar on three of my albums 'Hello America', 'Bad boys' and 'Stranger to love'. Doug is an exceptionally talented and gifted guitarist and songwriter that I have had the pleasure of knowing.

Now very much an established member of the legendary heavy metal band Saxon who have a strong and devoted following throughout Europe and America.

My personal favourite tracks that are embellished with Dougie's superb guitar work are 'Angry at the world' and 'One more day' from the 'Stranger to love' album and both title tracks from the albums 'Hello America' and 'Bad boys'.
Richard Thomas and Jeff Daniels
Special thanks to Richard Thomas. This year 2017 I am releasing songs from one of my earlier albums called 'Bad Boys' and I give my thanks and appreciation to Richard for recording these songs at his studio. After 27 years they still sound great!
I will always be deeply grateful to Jeff Daniels introducing me to Richard Thomas and for Richard's kindness in giving me the breathing space to develop my skills as a singer songwriter. If it wasn't for Richard's help in the very beginning stages I might not have achieved what I'm doing today. I sometimes feel it's been a very long but interesting journey in development to get to what I think are my strongest pieces of work 'Heavenly mortals' and 'The Black Wish Hounds'.


Copyright Kevan Koya ©

Last Updated 09/10/2019