Singer Songwriter



Click YouTube to listen to songs by Kevan Koya


Kevan Koya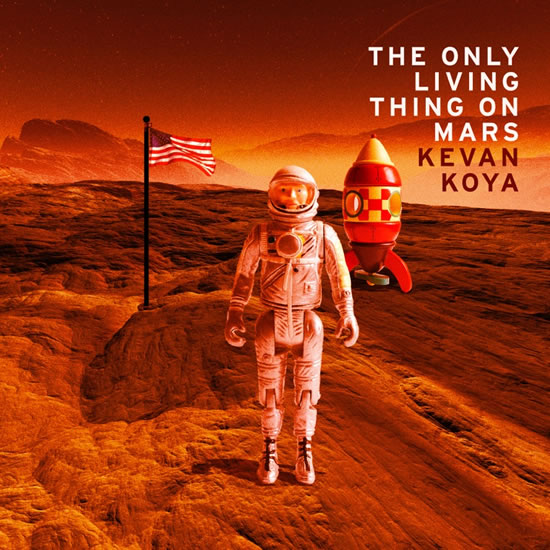 Album cover design David Grogan ©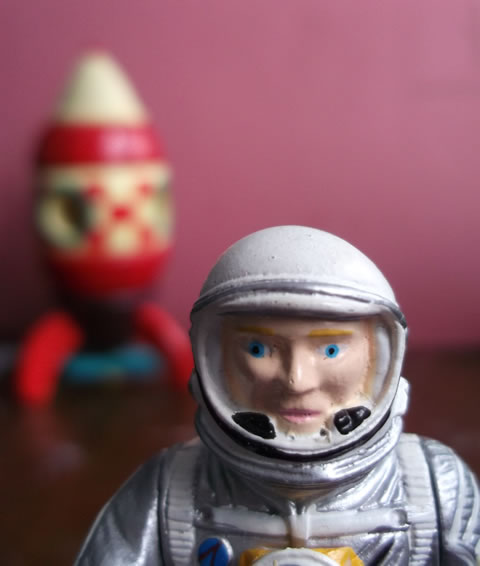 Here is Pulling Me Under taken from The Black Wish Hounds album.

Albums by Kevan Koya
Cover designs by David Grogan


MY MUSICAL JOURNEY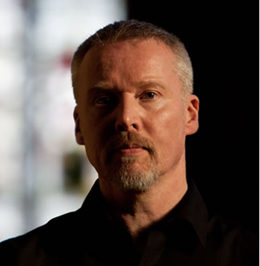 Albums by Kevan Koya
Decade of Destruction, Hello America, Bad Boys, Stranger To Love, The Only Living Thing On Mars, Heavenly Mortals, The Black Wish Hounds and The Garden.
Discovering Music
My very first strong impressions of music and its influences happened when I was really very young. I was fortunate enough that my eldest brother Nigel accumulated a very good record collection and along with my Dad's healthy classical record collection I had a broad variety of work at my finger tips for me to listen to. I remember being very fascinated with Tchaikovsky's "Swan Lake'' but the recording artist who made the biggest impact on me at that time was David Bowie. When I first listened to David Bowie's album ''Diamond Dogs'' at the age of fourteen I was fascinated by it's quality of sound and it's wonderful cover design by the artist Guy Peellaert and I remember thinking to myself, "Wow! This is what I would love to do: sing and write songs and hopefully one day I too will record an album that would be accompanied and housed in a wonderfully designed cover. I had no idea or rational belief that those desires would ever come true. The very first album I ever owned was by the band ''Queen'' (their first album which was titled Queen) Freddie Mercury was a great inspiration to me, being an incredible singer songwriter and I vividly remember when Queen released a single called ''Killer Queen'' and also a song called ''Find me somebody to Love'' I was instantly struck by these songs genius quality, so much so that I couldn't stop listening to these songs to the annoyance of my brothers, and these songs also helped ignite my love and passion for music in me wanting to become a singer songwriter,. My own taste in Music is very broad from classical to rock/pop, folk, even some jazz and other unusual genres in between.
As much as I was enjoying playing the piano, writing songs seemed impossible but was still very much on my mind. At that young age I was thinking, "How do these artists that I'm listening to, such as 10cc, Led Zeppelin, Super Tramp, Abba, Alice Cooper, Queen, Blondie and yes, even Sparks, write their songs? A bit later I'll explain a number of incredible coincidences, which helped shape my life to become a singer songwriter.
My First Introduction to learning the Piano
My first introduction to me learning music was when I was 11, quite late starting, but for me better late than never. My parents owned an upright piano that was idly sitting in my Dad's study. After aimlessly playing around on the piano and showing interest in this instrument, my Dad asked me if I would like to have a go at learning the instrument and I said, "Yes!" With my Dad being a vicar he arranged for the organist of his church, Nora Booth, to give me lessons to see how I would take to learning the instrument. Nora did say that if and when she felt she couldn't teach me anymore, she would hand me over to a professional tutor. I found I took to the piano really quickly, a bit like a duck to water, which sadly meant that my lessons with Nora would come to an end for me to be handed over to a professional tutor by the name of Lesley Brownbill. Lesley was and still is the musical director of a choir in Rye Sussex called the "Rye Singers''. I greatly appreciated Nora's help and kindness in launching me on my musical journey. It was also in my early teens that I would play around with my Dad's real to real tape recorder, making very feeble attempts at recording something from the piano, even then it was becoming clear I had a tremendous interest in music and recording.

It took me a while to get used to Lesley's approach and style of teaching the piano. It was more intense compared to Nora's, with me now having to concentrate on getting through as many piano exams as possible. On the 14th March 1975, aged fourteen, I came first out of twelve other contestants in a Piano Forte competition during the Hastings Music festival, scoring the highest possible marks. Lesley did mention about the possibility of me becoming a concert pianist which sadly didn't come to fruition. My lessons with Lesley came to end when I was aged fifteen, however before that final lesson I did ask Lesley for advice on how to write songs. The one useful bit of advice that she gave me was that all good song writing is based on strong chord progressions and then finding strong melodies to pin over those chosen chords. I never really thought or expected that I would ever be involved in music again from the age of fifteen after my last piano lesson. I thought that would be it, but a chance meeting happened when I was twenty one that was to change everything.
Rye
I spent some of my childhood living in Rye Harbour, and a bit later, aged 10, my family moved to Camber Sands. I attended the Thomas Peacock comprehensive school in Rye which was situated along The Grove and Love Lane. In actual fact I used the name Love Lane in a song I had written called ''Stranger to Love'' slightly changing it to ''Lovers lane''. This school was later attended by Paul McCartney's children Stella and James. I found things very difficult at school, not a pleasurable experience by a long shot, but I have such a fondness for Rye which I try to visit often as I can. Rye, being part of the Cinque Ports Confederation and a bastion against invasion on the Channel Coast, has always had close links with the crown and is steeped in so much history with popular tourist attractions such as The Mermaid Inn, which dates from 1420 and has 16th-century additions in the Tudor style, but cellars built in 1156 survive. There is also The Olde Bell inn, also known as Ye Olde Bell, a Grade 2 listed historical inn. It was built in 1390. It has a turbulent history and was once used for smuggling, connected by a secret tunnel to the nearby Mermaid Inn to the south. It was used by the Hawkhurst gang in the 1730s and 1740s who moved goods along the tunnel from the Mermaid to a revolving cupboard in the Old Bell for a quick getaways. There is also Lamb House which was built in 1722 by James Lamb, a wealthy wine merchant and local politician. In the winter of 1726 King George I, took refuge at Lamb house after his ship was washed ashore at nearby Camber Sands. James Lamb gave up his bedroom for the King, while Mrs Lamb gave birth to a baby boy during the night. The child was named George and the king consented to be the boy's godfather.
Nora Booth who was the organist at my father's church started me off on my musical journey by giving me piano lessons and lived in the very picturesque church square in Rye. During school lunch breaks my school friends and I would escape to the church gardens to have our packed lunches, or there were a number of times our art class tutor would take us on expeditions to paint this very picturesque town. A wonderful place to escape to. Looking back now, I strongly believe that having to attend church as a child, often listening to church hymns and being in the choirs helped contribute to my song writing ability in learning chord structures and melody. Little did I know then that music was to take such an important place in my life and go full circle with writing Christian rock and pop songs to be performed in church.
Looking Out Over Romney Marsh From Rye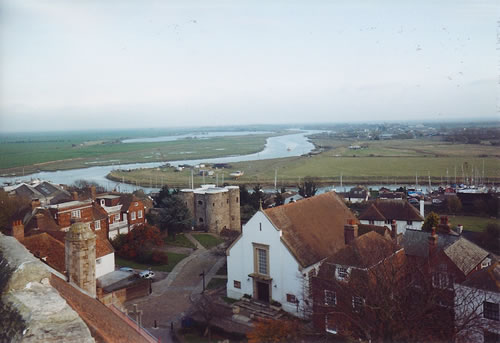 Rye Harbour
With my Father being the vicar of Rye Harbour he would occasionally assist in clerical duties at the beautiful St Mary's church in Rye, which is situated on the highest point of the town. From the church tower roof (which is open to the public during the summer months) there is a spectacular view stretching out over the marshland and on a clear day you can see as far as Dungeness power station and the old Dungeness lighthouse and it's also possible to see is the Harbour road meandering down to the sleepy seaside village of Rye Harbour. It is mentioned in folk-law that a tunnel supposedly connects the Black Tar painted Old keeper's cottage in Rye Harbour to the vicarage, which I could imagine would make a wonderful quick escape route for pirates carrying their plunder. During the 1700's smuggling was very much a wide spread thing and the authorities had a real problem keeping the smuggling in check and sadly there were a number of hangings as a result of this illegal trading.
The famous children's writer Monica Edwards lived at The Old Vicarage when her father was the vicar of St Mary's church in Rye from 1927-1936, before we eventually moved into the vicarage in 1966. The house's character and its location greatly contributed to Monica's novels of Pirates and smugglers located on the Romney Marsh.
Rye Harbour Martello Tower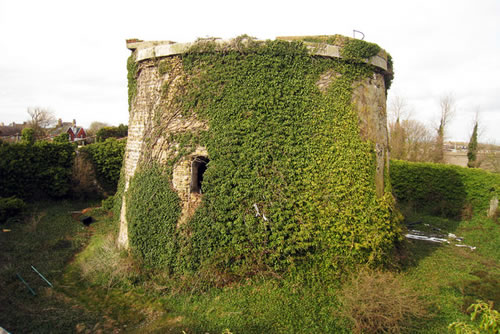 Situated very near to the Old Vicarage by a car park is a Martello Tower that has the appearance of being sunk into a raised mound, with a high stone wall surrounding the tower and with only one doorway allowing access to the its grounds, which are very heavily overgrown with nettles and clinging ivy. My brothers and I would spend many hours playing within these grounds. A doorway into the Central Tower was raised at least fifteen feet above ground level, situated almost halfway up the side of the tower. We would climb up the side of this building to reach its entrance, excited to see what lay inside this old ruined tower. It was sad to see this old building in such disrepair, built in 1805,during the Napoleonic war, now understandably eroded by the passing of time and patiently waiting in the hope of being restored by British heritage or some other charitable organisation, who seeing the plight of this old building might heroically intervene .Once my brothers and I had reached the doorway of the tower we could see an internal staircase winding up the left-hand side of the tower, leading up to the top of this circular building. Part of the staircase had fallen away from the entrance platform but we could see that previous and equally curious explorers like us had placed a plank of wood to bridge the gap, resembling a bridging tooth, making it possible for us to continue up the winding staircase. I could see it was quite a long way down to the foundation floor of the tower and looking down at the centre of the tower it looked black and foreboding, scattered with rubble and large puddles where the water had forced its way in through a permanently damaged roof. Once we had made it to the top and standing on the roof of the Tower we were presented with a spectacular 360 degree view, a view that stretched out far before us. I could now see how this tower gave such an advantage in spotting unwanted invaders, that possibly being the sole purpose of having these towers scattered along the British coastline. Steel cannon rails could still be seen flanking north, south, east and west, rails that would support heavy cannons as they spat out their venom at the unwanted invaders. Looking back at our time exploring this tower we were very lucky to escape without any accidents or serious mishaps, a fall could have been fatal, but being energetic boys it's something that didn't cross our minds. Our sole objective was to reach the tower roof and conquer the challenge of making it to the top of this military fortress.
RNLI Lifeboats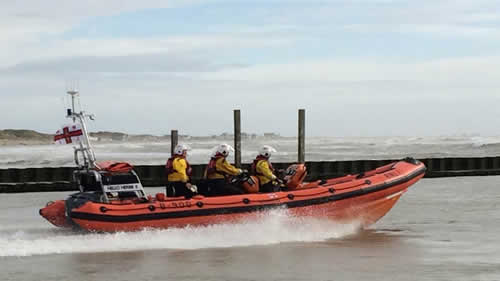 During the years that my Father was vicar at Rye Harbour and a little later in the parish of Camber Sands (which is situated on the east-side of the River Rother) he blessed many of the Rye Harbour RNLI Lifeboats. With some of the RNLI lifeboat crew being quite superstitious they would always try to appoint my Dad to bless the new lifeboats, saying that he had brought the lifeboats and crew good luck from his blessings, keeping them safe over many years. In actual fact the RNLI were so keen on having my father bless their boats, they asked him even when he was well into his retirement.
East Guldeford and Camber Sands
When my Father was based in his parish at Camber Sands he was also in charge of St Mary's Church, East Guldeford which is a small hamlet situated just outside of Rye. At first glance the church, situated on a bleak out-post on Guldeford (pronounced Gilford) Levels, resembles a barn more than a church and is situated in a field, and is brick built. It was built under the auspices of Sir Richard Guldeford in 1505. The church has a very unusual twin roof design with the bell cote balanced between the two roofs. It's a delightful little church with two strong buttresses supporting the front wall and smaller buttresses supporting all the other walls of the church. The inside of this church is simply a large hall with a plastered ceiling and its inside features include a double decker pulpit (yes folks you read right a double decker!) and it has traditional box pews. I remember when my father was vicar of this church the pews had been painted white which I always thought looked a bit odd, however now the white paint has been stripped back to the original wood, which overall gives the inside of the church a much softer look. Much of the restoration to this church was carried out in Victorian times. There is an unusual frieze of seraphim and musical instruments at the front of the church above the altar which was discovered when the walls were being re-plastered and restored and this frieze probably dates back to when the church was first built. The bowl of the font has rosettes on, and dates from the 12th century, implying a relocation from another church, possibly from France. I'm very proud of all the work my Father has done in all the churches he has been appointed to.
Camber sands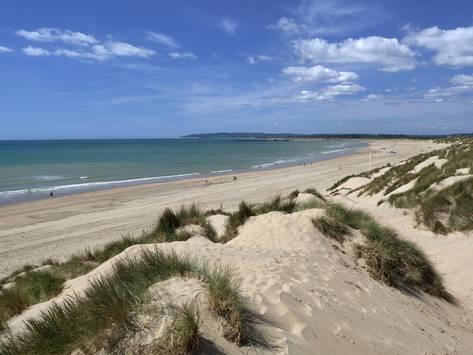 I was very fortunate in being able to spend my childhood living in Camber sands. My brothers and I would often spend much of our time (perhaps too much time?) during the summer months playing on its sandy beach and incredible sand-dunes. The river Rother divides Rye Harbour with Camber sands and the two beaches couldn't be more different. Camber beach is so sandy that it was used in the film "Carry on Camel" because it was able replicate a desert setting with ease and I can still remember as a child watching them filming, fascinated as I looked at all the buzzing activity of the filming world. From Camber beach looking west there is a spectacular view towards Pett level and slightly further in the distance is Fairlight with St Andrew's church perched on the hill, which offers spectacular views from its tower and is open to the public during the summer months. One of my fondest memories was spending time with the Williams family who owned a small sailing boat. We would all help by pulling this small boat over the sand dunes to the beach, excited that we were going to be able to sail on the enticing waters. I loved being out on the water and sharing my time with the Williams'. Camber is an ideal beach to go swimming and sailing but there were a number of dangers that we all had to keep in mind when walking on the sand once the tide had gone out, and they were the quick sand and the fast-flowing tides. It is very easy to get marooned on the sand bars when the tide turns to come in and during the summer months the RNLI lifeboats are often called out to rescue stranded tourists and drifting Lilo Air Beds.
Going on to art college
Leaving school I went on to study Industrial Art and design at the Hastings College of Art, with me also experimenting in fine art and photography. As it happened I would share photographic classes with Heather McCartney (Paul's adopted step daughter) and there would be many occasions when all of us from the photographic class would saunter down to the local pub that was situated in a building that was shaped like a ship called Marine Court on St Leonards seafront. I studied fine art and screen printing on the top floor of The Brassey Institute in Hastings. It was an amazing building but quite a trek having to climb a winding stone staircase to get to the Art department. Once you stepped into the Art department, its glass roofing filled the rooms with light, perfect conditions for painting. Its wooded flooring was accidently scattered and sprinkled with paint from all the many years of student's creativity leaving the rooms smelling of paint aroma and splashed with colour. There was something very delightful about this Art department, where I enjoyed learning the skills of Silk Screen printing, fine line drawing and colour mixing.
| | | | |
| --- | --- | --- | --- |
| | | | |
| | The Brassey, Hastings | | Marine Court, St Leonards on Sea |
My art tutor Michael Priddle was a very influential and successful Artist, a larger than life flamboyant character who we all liked and respected. There was one occassion when Mike came into the classroom saying ''hello my darlings'' then slammed something very heavy on a classroom table, which was in a plastic bag. After quite a few minutes of suspended curiosity, Mike revealed its contents and to our horror, it was a pig's head, which would be the subject for a still life drawing exercise for the day. With Mike living in Brighton and having to travel to Hastings on the train, this very sad looking subject didn't smell too fresh and by the afternoon I and other students were making a quick exit from the classroom to escape the stench of this gradually rotting pigs head. It was during this time at The Brassey and The Hastings Collage of Art and Design that I discovered an interest in architectural drawing, something which is reflected in my later works, especially the painting ''Old Stopham Bridge''.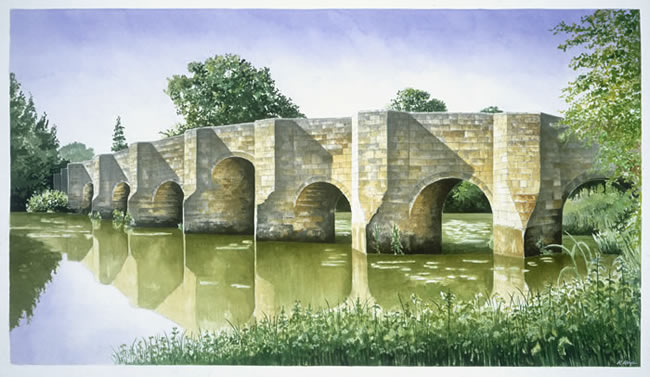 Old Stopham Bridge
My First Important Chance Meeting
Leaving Art collage at the age of nineteen, I lost my direction with the art and all my hopes of becoming a commercial artist became dashed. I had to find whatever work I could and worked as a Health Care Assistant at Hill House Hospital in Rye caring for the physically and mentally disadvantaged. The appearance of this Hospital did resemble Colditz Castle and has since been demolished. My time working at the Hospital was a valuable and humbling experience, but I was so missing not being involved in the arts. I remember there was a time while I was working at the hospital feeling very down about things and I happened to look out of the hospital window and I could see swallows gathering on the telegraph wires ready to migrate and I had an incredible feeling of reassurance that I too would be leaving, leaving this job at the Hospital to begin a new venture and within a very short time I found a job as a ''Tracer'' drawing plans of buildings for an architects that was based in the Old Town of Hastings. Ok it wasn't Graphic Design but it was great to be drawing for a living and away from what became a very oppressive environment at the Hospital in Rye.

Nigel (my brother) took me into a pub in London Road in St Leonards- on- Sea, a pub I had never been into before. As Nigel came back from the bar with the drinks he mentioned that he had heard a bloke (a person by the name of Jim Bell) saying that he was looking for a keyboard player to join his band. "Why don't you go and enquire, you can play the piano?" Enquire I did, and passing the audition I became a band member. It was while learning Jim Bell's songs and doing the backing vocals I began to understand the process of writing songs and Lesley's advice all those years ago came in handy. It was during this time that I had my first experience of being in a recording studio, ICC (International Christian Communications) in Eastbourne. Jim Bell wanted to record three of his songs at ICC with me playing some of the Keyboard parts and I was pleased to see a very proud and graceful looking Steinway piano standing in the studio. Jim was mainly a guitarist, but also had a very good knowledge and skill at playing the keyboards. We got to the studio on a Saturday morning and didn't leave till the following morning, a full 24 hour recording session and I loved every minute of it. It did seem a bit strange and disorientating leaving the windowless studio on the Sunday morning after a long day and night of music making, to be then blinded by the reality of brilliant morning sunlight, our eyes taking a while to adapt to the daylight. As we made our way back home to Hastings, Jim played the rough mixes of the songs that we had just recorded on a tape cassette player in the car and we discussed what worked well with the songs and where we could make improvements. Jim's recordings sounded great, fuelling my appetite to eventually get into a studio to record my own songs. I really enjoyed being able to share those moments with other musicians and writers, but I did find that it took me a while to feel confident in the process of mixing my own songs. Mixing is when you need to get the instrument levels and sounds just right and to bring out certain sections of the arrangement of the song to give interest and real depth of sound. What I have learnt over the years when doing final mixes, is that it's a good idea to not listen to the song for a few days, just put it to one side. With distancing myself from the song when I do go back to work on it, I'm listening to it again with fresh ears, which I find always helps in highlighting any faults and more clarity to work towards a good final mix.

I remember when I recorded my very first song ''Heaven Again'' from the ''Decade of Destruction'' album, hearing the song on my stereo monitors at home was at first a very strange and slightly unnerving experience. Obviously with being the writer of the songs I would hear the songs often enough in my head, however to hear it all being played back to me through monitors is another thing, it felt like I was baring my soul to the world, very exposed to the possibility of ridicule but hopefully appreciation, but on the other hand it did feel very exciting too, because from what I heard from the first two songs I had written ''Heaven Again'' and Keep on Walking'' I knew I had an ability as a singer songwriter as basic as it was, and hopefully I had something to offer. Ok in the initial stages of recording I did spend a number of years experimenting with my vocals and in those early days trying to finding my natural singing voice, but I knew from what I heard of my voice and the songs I was writing that I had something which seemed to work, at least good enough to continue with. I feel very fortunate that I'm able to sing my songs because if that wasn't the case, goodness knows what I would have done, finding a vocalist to be on tap and to sing on all the work I have written would have been very difficult and expensive. People have often compared my voice to a cross between Al Stewart and Neil Tennant from the ''Pet Shop Boys'' with a hint of David Bowie thrown into the mix. I have never really wished to promote myself as a solo artist but now that I have accumulated a lot of songs and a wealth of experience as a writer, I think deep down I would very much like to work with a team of writers supplying music to other artist through a publishers or, what would be even more amazing would be to have a song used in a feature film. I do feel very grateful to a good friend of mine called Julian who I knew in my early twenties. There were many times we would often go for walks in and around the town of Hastings, or when walking home from night clubbing we would sing songs from our favourite artists at that time. Julian would sing songs from artists such as Soft Cell 'Tainted Love' or 'Talk Talk' with me joining in and then throwing into the arena my fouvourite songs from Bowie and Alice Cooper. It was during these times that Julian happened to mention I had a good singing voice and I feel grateful for Julian's kind words which helped me to feel more confident in singing and pursuing my passion for music. The song 'Keep on walking' is dedicated to Julian.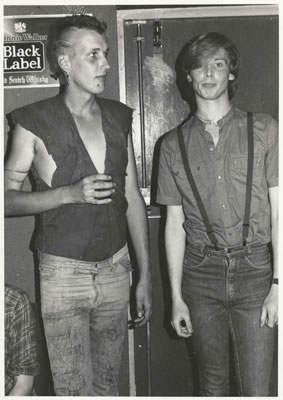 Here is a photo of my friend Julian (with me on the right) taken many years ago roughly 1982 in a Gay night club, I can't remember its name, but it was situated in warrior Square St Leonards-on -sea. It was the only Gay night club in the Hastings area, I say night club, it was more of a basement flat with the living room turned into a dance floor, with a make shift bar in the corner which had a grand total of two optics, Gin and Vodka and an astonishing variety of lagers; a total of one, Carling Black Label. I was surprised to see (perhaps slightly disappointed) that we didn't have to dance around a sofa and coffee table and I could only imagine all the lighting effects coming from a solitary stand up lamp situated in the corner of the room, with a pull cord to help with the strobe lighting effects. This photo was taken by a photographer from a local news paper for this clubs opening night. I'm not sure why I'm pulling such a funny face? Perhaps I couldn't hold back the excitement of it all.
Decade Of Destruction album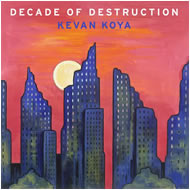 During this time I wrote my first album called ''Decade of Destruction'' which had a very punk rebel feel to it. Here are 2 songs from this album recorded between 1981-2: ''Decade of Destruction'' and ''Suffering in My Image''. With these songs being some of the very first songs I had ever written, they do reflect me finding my way as a song writer and these songs have stayed hidden in my music truck for a number of years until now. These recordings are copies from very old cassettes and so the quality and sound is very raw and at times dodgy. All these particular recordings are in mono, recorded on a Tascam 4 track recording desk and in some respects I would very much like to rerecord these songs to a higher standard but the expense in doing that would mean it to be very unlikely. Mick Mepham plays guitar on both songs ''Decade of Destruction'' and ''Suffering in My Image''. I got to know Mick Mepham through Jim bell when I was in his band, we all lived in the area of St Leonard-on-Sea, very near to Hastings.
When I was playing keyboards in Jim Bell's band which he called ''My Eyes My Eyes''(not sure about the name?) I gradually could see how songs were formulated into patterns of arrangements and then the mystery of how songs were written slowly revealed itself like a view gradually appearing through a dispersing mist. From that point on I attempted my own writing and this album ''Decade of Destruction'' was formed. It's basic and crude in recording but it still puts the songs across in a very strong way, regardless of not having all the trappings that come from professional recording studios.
I realised from a very early age that I had the ability of making up melodies in my head, long before I began piano lessons at the age of 11. One vivid memory I had was travelling to and from the comprehensive school I attended in Rye. I would compose classical melodies in my head as the school bus trundled its way over the Sussex marsh land from Rye to Rye Harbour and then later on from Rye to our new home in Camber sands. During my early teens I did try writing a little minuet for the piano (as basic as it was) which I took along to one of my piano lessons for my tutor Lesley Brownbill to listen to. From the expressions on Lesley's face I think it went down like a lead balloon and I'm sure I heard some slight winces from her as I trotted out some dischords. However the seeds for wanting to be a writer/composer were sown and that passion has never left me. There is one instrumental classical pieces on this album called ''Children of the Berlin Wall'' which is quite beautiful and would merit being rerecorded. Also there are three instrumental (Classical) pieces on the ''Bad Boys'' album ''Where Rivers Flow'', ''The Magic of Iona'' and ''A Summers Evening Dance''.
I would like to just say after mentioning tape cassettes, that it was a great relief when tape cassettes went out of use. The number of times I would place a cassette into a cassette player and watch it get slowly mangled and eaten up which was very frustrating to say the least, or equally frustrating and embarrassing was to hear my own songs being played at the wrong tempo, either too fast, making my voice sound a bit like Minnie Mouse or too slow, that my voice sounded very deep resembling the actor Richard Dawson Kiel who played ''Jaws'' in the James Bond movies. Thank goodness for that progression from cassettes to compact discs and even better still we now have the wonderful memory sticks.
Decade of Destruction album track listing
Decade of Destruction, Keep on Walking, Suffering in my Image, Children of the Berlin Wall, Don't Give Into Your Heart, Believe in You, Arabia, Fight for Love, Summer Fields, My Prayer (Hymn), Each Night I Pray, Bonus Track Heaven Again, Molten Sky (poem).
My Second Important Chance Meeting
Hello America album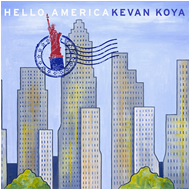 Moving from Hastings to Brighton at the age of twenty three, I commuted to Hastings to continue to record my songs on Jim's four track recorder, till Jim finally upped sticks to live in London. During this time I was working for a quick printers and a song writer by the name of Jeff Daniels came into the shop for business cards to be designed and printed. Jeff had worked on the musical "Time'' with Dave Clerk, which at that time was being played in the London West end staring Cliff Richards and Freddie Mercury. Jeff agreed to listen to my four track recordings. Carrying a brief case filled with about ten cassettes (showing my age) I arrived at Jeff's and walking into his lounge I placed my briefcase onto a coffee table, stacking up the cassettes for Jeff to listen to. Jeff listened to each and every tape till, eventually coming across two songs that he particularly liked, he picked up the phone to call a friend of his called Richard Thomas who owned a private recording studio, saying "I have a talented singer songwriter here with me now. Could he pop into the studio?" This would be the first time I would be in a studio recording my own work. The two songs I recorded were "Love Talks'' and "Angels in The Rain''. From this moment on I was able to continue recording at Richard's gradually learning the art and craft of song writing and experimenting with or rather practicing my singing. An album that followed was: "Hello America'', a five track album, songs included: "Your Destiny", "Bright Light'' and "Hello America''. The guitarist who played on this album was Doug Scarratt from the band, Saxon. I met Doug through him giving me guitar lessons.
This album ''Hello America'', marks the first time that I was able to record in what I call a ''proper'' recording studio. From that very first experience of recording at ICC in Eastbourne for Jim Bell during September 1983, it was now my chance to record my own album in 1986. In many respects going into a recording studio can be a very daunting experience, but with me already having a certain amount of experience in writing and recording (as basic as it was) and a certain amount of belief in what I was doing musically, I was thrilled and excited to take on this recording project, throwing myself headlong into what was a great opportunity. It was a time for me to experiment, learn and mould the abilities I already possessed to become a more competent singer/songwriter. The title track on this album is about defying all the odds and making it in the Hollywood world as a film star. The character in the song (Susie) has (or has had) to face criticism and scorn for sticking to her dreams of becoming an actress and when she finally does make it as Queen of the silver screen so many people are left with egg on their faces, having to swallow their own words of criticism. It highlights desires, hope and success.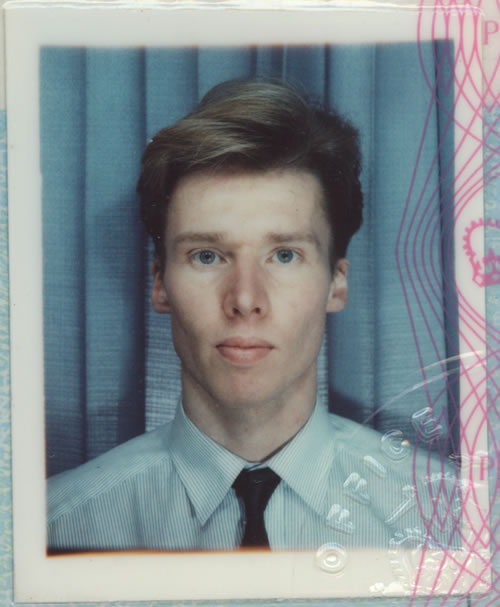 Special thanks to Richard Thomas the owner of this private recording studio, which was based in Hove, Sussex. He was wonderful in guiding me through the process of recording with me discovering what worked and what didn't when it came to instrumentation, vocal performance and song arrangement. With Richard being a drummer, he programmed the drums on this album and helped with the keyboard sampling. This album was first completed without any guitar parts. No session players were used, but, with me then knowing Doug Scarratt, I thought it would be great to have him play guitar on these recordings. If I was to record these songs today I would bring in session players to give the album more of a band feel. However it does have a brave, optimistic charm and in many respects the songs still come across very well in the standard of writing and recording, capturing my thoughts on travel, religion, war, spirituality, the afterlife, homosexuality and feeling of being outcast and different.
Not very long after this album was recorded, I had the privilege of meeting Quentin Crisp, who joined my friend (Andy Worton-Steward) and me for drinks in a hotel lounge bar which was situated on the Brighton seafront. I believe it was called the West Beach Hotel. It was wonderful to be able to spend the evening with Quentin in conversation and to hear more about this fascinating character's life. The song ''Your Destiny'', which is possibly my favourite song on the album, covers the topic of difference, exclusion and homosexuality and so after this meeting I decided to dedicated this song to Quentin. It was interesting to hear Quentin's thoughts on music, with him mentioning that he didn't really understand the music of today, but he was very pleased and flattered by a song ''Sting'' wrote called ''Englishman in New York'' highlighting Quentin's new life living in Manhattan and his love of the diversity and culture of New York. I really admire Quentin's courage and sense of adventure in leaving it all behind in England to find a new life in America. It's something I would love to do.
Hello America album track listing
Hello America, Your Destiny, It's a New Day, Precious Years, Bright Light, Love Talks, Angels in the Rain, Hello America (latest version), Summer Fields.
Bad Boys album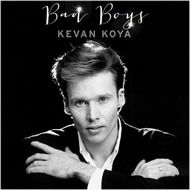 Soon after the ''Hello America'' recording project I began to write prolifically and a new album took shape called ''Bad Boys'' This album was to take things up a few notches in the quality of song writing and lyrically it was much more image provoking than any of my previous works. The main core subject of ''Bad Boys'' is about what happens to bad people when they die. Where do they go? Where do we all go when we die for that matter? A question that we'll wrestle with at some stage in our lives, some people perhaps finding the answers that they're looking for through their own faith and religion. What's behind the vale of death, Heaven or Hell? Once we finally close our eyes to this world what should we expect? Would there be someone familiar to greet us from the other side? This album captures love, fatherhood, vampires, the unknown, romance, spirituality and hope for the future. Still not having session players at this time(because of lack of finance) this album is recorded with sample sounds and programmed keyboards which Richard Thomas and I worked on, then bringing in Doug Scarratt to add his guitar parts in the way he did for ''Hello America''. I hadn't listened to these songs for many years while they lay silent at the bottom of my music trunk. However, I was pleasantly surprised when first listening to them after so many years. My initial thought was, ''These songs aren't bad, considering all the restrictions I faced when taking on any music project''. As I've briefly mentioned in this Musical Journey, to make effective judgement on a song or it's mix, it's best not to listen to it for a while (even better still for years), to have time to detach oneself from the song. Listing to these songs after such a lengthy break, I instantly knew if they were any good or not in the quality of content, production and mixing. Most of the songs on this album I would love to redo to a better standard now that I'm more experienced in the craft of recording and singing, but like the ''Hello America'' album they still come across strongly in the standard of writing, bearing in mind I was still finding my way as a singer songwriter.
Here is the Bad Boys EP, a selection of 5 songs 1. True Love 2. Bad Boys 3. He Understands 4. Living Dream 5. Break Away:
Bad Boys track listing
True love, He Understands, Bad Boys, Can't Stop, Crossing the Bridge, Where Rivers Flow (instrumental), This Love, Living Dream, Break Away, Song for Andy (cool mix), The Magic Of Iona (instrumental), Now I Have found You, Bad Boys (version 2 different chorus), A Summer's Evening Dance.
Songs from the Bad Boys album
An Idea for a Play called Song for Andy, track listing
Never seen Before, Keep your Pride, Song for Andy, Living Dream, Now I have Found You, Break Away, My England. Ideas only for a song called Wasted.
Recording at Pete Varkala's studio in Hove Sussex
The Stranger to Love Album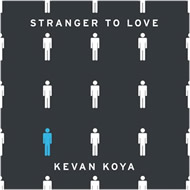 The first album I recorded at Pete Vakala's studio, which was called ''Grove Studio'' in Cambridge Grove, Hove was "Stranger to Love", A seven track album. The musicians who played on this album are Doug Scarratt - guitars, Dave Mattacks - drums and Chris Howlett - keyboards, with me doing the vocals and some electronic keyboards. Parts of this album were also recorded and mixed at a studio in Dyke road Brighton owned by Kevin Stagg.
The title song on this album does capture the thoughts and feelings of being an outsider to everything, the feelings of not fitting in or conforming to society to what is supposedly the ''norm'' being a bit like an Alien here on Earth, feelings that I too have experience in life. I think these feelings are echoed in my songs and paintings probably more so in the latter. The song ''The Only Living Thing on Mars'' also captures the thoughts and feelings of isolation but presented in a more commercial way, with the first astronaut walking on Mars and highlighting the answer to the big question with the fact that no life is found on the red planet. He really is the only living thing on Mars missing the beauty of Earth and his friends and family. A song called ''Cardboard City'' from ''The Only Living Thing on Mars'' album reflects the difficulties of homelessness, not only here in the U.K but also in so many other parts of the World. It's awful to experience these emotions of isolation. There is also another song from this very emotional ''Mars'' album called ''I'm not Alive I'm Not Dead'' which deals with the aftermath of experiencing these feelings of emotional and physical isolation, the ever increasing problem of depression in our society an illness which is still not fully understood and in some cases still taboo. It's true these subjects are far from being commercial and are somewhat difficult in subject matter to listen to, but I feel that being a song writer, I wanted to write about things that effect people in society and to do it in a way that it wouldn't sound predictable or tacky and putting over a strong message of hope that it's always possible to change things with help and support. As you have gathered there are many aspects to song writing that I enjoy, however the most enjoyable aspect for me is working out the lyrics, pushing words around on paper and putting across a very condensed storyline, using words in a very visual way. I know that my songs would marry very well to video or film; however I have always tried to strive for them to stand up lyrically in storyline and visuality, without necessarily having a video to accompany it. I would just like to say a very special thank you to Doug Scarratt playing guitar on these 3 albums Hello America, Bad Boys and Stranger To Love.
Stranger to Love track listing
Deeper, Stranger to Love, One More Day, It's a Fool's Game, Angry at the World, Letting Go, Made of Muscle, Praying At The Alter, Go Back Into The Earth, Images (instrumental), Pictures Of You, Where Do The Lost Ones Go.
The Only Living Thing On Mars Album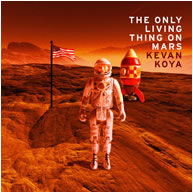 Soon after recording "The Stranger To Love'' album, I was writing prolifically and another album was taking shape called "The Only Living Thing On Mars'' .Eleven songs were written for this album, however because of financial restrictions only eight songs were recorded. The first two songs I decided to record for this album were "The Forgotten Ones'' and "I Feel So Good'' which, being a club track, didn't suit the feel of the other songs, so it was left off the album. Doug Scarratt played on "The Forgotten Ones''. However for a different style of guitar sound and playing I brought in Michael Casswell to play on this album. This album was recorded at Pete's Grove Studio. The other musicians were Jim Bryant - bass, Richard Holmes - piano and Ivan Pledge - drums and me doing all the vocals and pad keyboard parts. Pete Varkala has a tremendous ability to engineer and produce and the quality of my recordings has greatly improved.
This recording project began in 1999 and completed in 2001. It was the first time that Michael Casswell had played on my songs and it was then that I realised the power and quality of Michael's guitar playing and his tremendous sensitivity in production and ideas. This album was originally recorded on VHS tapes unlike the method we record today using the computer. Any remixing of these songs would be costly and difficult and it's probably best for me to leave the mixes the way they are. However there was one song that I felt I could improve in making the arrangement more commercial and for it to be sung in a different key. This was the title song on the album ''The Only Living Thing On Mars''. So it was rerecorded in 2015 and now incorporates rich backing vocals and a more lush production with Michael Casswell on guitars and Phil Williams on bass. This latest version of the song I really do prefer in many ways, simply because over the years I have learnt so much more about the writing, arranging, production and the mixing of songs. From the time when I first recorded this song way back in the year 2000 I was still very much trying to find my way as a writer and now so many years later listening back to the original version I felt I hadn't done this song justice, it's a very strong song lyrically and commercially and deserved to be propelled into 2015, having a better quality of recording and production. In 2003 a selection of songs from this album were played on Joanne Good's early morning breakfast show on BBC Southern Counties Radio. It was a weird but pleasant experience to hear "The Only Living Thing On Mars'' coming over the radio air waves.

During the midst of recording The Only Living Thing On Mars album it was a particularly worrying time for me. I developed terrible stinging pains just under my jaw and after seeing a specialist (surgeon) I was told that one of my saliva glands under my jaw was damaged and would have to be removed. I was warned by the surgeon that the risk of this particular operation could mean me losing my singing voice, or for me to be left with nerve damage in the face. Because of this I asked the surgeon if I could slightly delay the operation for me to finish all the vocals for this album, this was agreed and a deadline was set for me to complete the vocals. The thought of never being able to sing again after the operation filled me with indescribable dread and fear. Despite all the possible risks the operation was successful and thank goodness my singing voice wasn't affected thanks to the very skilled surgeon. After the surgery I was to learn that there were complications during the operation which meant being on the operating table for quite a few hours and it was very much touch and go in avoiding permanent nerve damage. Even though the operation was successful there had been some slight damage, leaving me with a Granuloma in my vocal chord which amazing didn't affect my vocals and did eventually heal over time.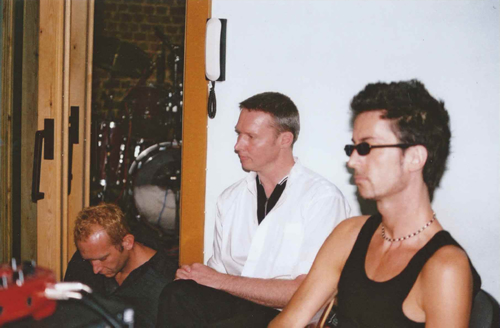 The Only Living Thing On Mars Recording Session, from left to right Ivan Pledge, Myself, Michael Casswell
Here we are looking very thoughtful, listening closely to a playback on the studio monitors
The Only Living Thing on Mars track listing
The Only Living Thing on Mars, I Know this Love is Real, The Forgotten Ones, Electric Eyes, New Town, Cardboard City, I'm Not Alive I'm Not Dead, Is There another Earth?, Falling South, Please Don't Cry (short), Waiting For The Rain, God Save America, Bonus Tracks Feel So Good, Please Don't Cry (instrumental).
The Heavenly Mortals Album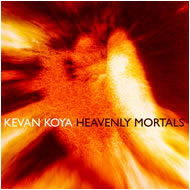 I officially started to record this album in 2006. The album consisted of thirteen songs and it was huge project to take on board. Pete had moved from Hove to the Village of Steyning just north of Shoreham and the new studio created a wonderful environment to record. The musicians who played on this album are: Michael Casswell - guitars, Phil Williams - bass, Tim Bye - drums, Andy Ellis - guitars, Richard Naiff - piano, Richard Durrant - guitar, Pete Varkala - engineering and co-production, and me doing all vocals and pad keyboards
With writing prolifically for this album the recording project did take a long time to complete, about four years in total. The reason for this length of time in finishing the recording of this album (as well as other albums that I have done) was purely down to my financial limitations. I finance all these recording projects myself. I have often thought with slight exasperation when doing these recording projects, that if I had been signed up to a recording company I would probably have received financial backing, which would have meant easily finishing these albums in a very small time frame, a matter of a few weeks. However the upside to being independent is that I'm able to write and express myself freely with my music, without having the commercial restraints, limitations and expectations that would be placed on me from being signed to a committed contract. The music industry has changed greatly over the years and there is a tremendous pressure on every leading song writer to come up with the most commercially viable songs, it has to make money or it could mean being dropped from the recording contract like a sack of potatoes. I really couldn't imagine songs that I have written such as ''The Forgotten Ones'' ''Please Don't Cry'' ''Electric Eyes'' ''I'm Not Alive I'm Not Dead'' and ''Cardboard City'' being commercially viable, but I'm pleased that these particular songs do have real depth and message which is far more important to me. I've only ever treated music as an enjoyable hobby to fulfil my passion for song writing, however it's a wonderful bonus and uplift for me to receive recognition and praise for my recordings, which I'm always very grateful, and of course I would be equally delighted if my music ever received commercial success. I do already feel tough, that I have achieved success in what I have done musically, from that very first impressionable moment of listening to Bowie's ''Diamond Dogs'' album at the age of fourteen and dreaming of being a song writer, never believing it possible, to now recording seven albums and working with so many wonderfully talented musicians who have worked, or still working with some of the greatest recording artist in the music world. I feel very flattered and privileged that these musicians have such a respect for my work in what they have contributed. I have credited these musicians a bit further down on this web page. I do feel I've come a long way on this musical journey in becoming a singer/songwriter.
My initial thought that conjured up the idea for the title ''Heavenly Mortals'' was me thinking of all the people who do tremendous good in helping people in society, people such as Nurses, Doctors, Charity workers, Aid workers, Fire fighters and Mountain rescue. Those people at times will risk their own lives to help save others selflessly and to me they are a bit like Angels here on Earth. This initial idea went a few stages further into fictional realms, when one day I went for a walk down to the beach where I live in Brighton. It was a beautiful evening with the sky displaying an incredible sunset. The sky was so spectacular that the people there on the seafront were taking pictures of it and as the Sun gradually began to set, I could see many camera's flashing up and down the beach, making it look as if somebody famous had just arrived. As the sun began to set even further, shafts of light (Crepuscular rays) were breaking through the clouds and hitting the surface of the sea, like spotlights scanning a stage, a spectacle that continued till the moment the light had faded and the Sun was submerged behind the horizon.
As I made my way back home after seeing this incredible sight, I came up with the first lines for a poem called ''The Gateway'' (Golden Rays) these lines were: ''As the sky changes in colour, and the Sun falls behind a silky veil, golden rays break through the parting marbled clouds, like spotlights onto a stage.'' The rest of the poem fell into place very quickly. My imagination and creativity certainly went into overdrive when after finishing this poem I couldn't help but think it should be set to music. These two songs '' Heavenly Mortals'' and ''The Gateway'' (Golden rays) capture the essence of this album.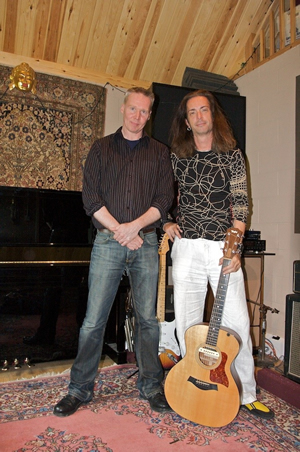 Here is a photograph of Michael Casswell and myself. The album Heavenly Mortals I have dedicated to him.
The two songs which I first wrote for this album and which happen to be quite commercial are ''I Believe in You'' and ''Space Girl''. ''I Believe in You'' is the only song from the album which hasn't been recorded at Pete's. It was recorded at Andy Ellis' in 2005 with Richard Naiff adding a piano part and I believe it was the song ''Space Girl'' that was to kick off the ''Heavenly Mortals'' recording project in 2006.

Heavenly Mortals track listing
Heavenly Mortals, If Only You Knew, Forever, Space Girl, Sail Away, Down to Earth, It Doesn't Bother Me, Stay With Me, Invisible, I Believe in You, Burning Shore, The Gateway (Golden Rays).
A Third Wonderful Chance Meeting
One year into the recording of '' Heavenly Mortals'' album in 2007, I happen to mention to a work colleague, Annie Grogan, that I had just started a substantial recording project of 12 songs, a project that would probably take a number of years to complete. I also happen to mention that it had been a lifelong dream to have my albums housed and presented with wonderfully designed covers, which I have always felt completes the work. Annie mentioned that her husband David was a book cover designer, who has his own business in London, saying that David would probably be able to design the cover for this album and she would have a chat with him. I was thrilled when Annie mentioned that David would be more than happy to do the cover design and then discovering the standard of David's work, I was certain that whatever he was to design would look fantastic! I felt very nervous when I had my first meeting with him to discuss ideas for the cover, but what became very apparent to me during this meeting was David's wonderful warmth and kindness which instantly helped put me at ease and from our conversation I discovered that we shared so much in common in what we liked musically and of course there was the art. Since David working on this album cover, we have developed a good friendship. I feel so very grateful to Annie and David for making what I thought was impossible, possible. I love David's work and he has now designed all my album covers. To find someone who can do the same standard of work as David's would be extremely difficult and this chance for me to get to know David came just at the right time and I'm grateful. David's company in London is called Head Design, www.headdesign.co.uk. His work is brilliant!
The Black Wish Hounds Album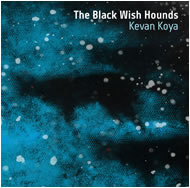 The idea for this album came about from me having to walk up and down a country lane called Mouse lane, to get to Pete's recording studio in Steyning. During the winter months when the lane was dark with only a key- ring torch to light the way, it was very easy to feel spooked, seeing only dark silhouettes of trees and shadows, it certainly sparked my imagination and ideas for my seventh album began to take shape called ''The Black Wish Hounds''. My fictional idea for The Black Wish Hounds was based on ancient British folklores, the Black Dog (ghost) also known as the Black Shuck's, or Hell Hounds. These black dogs have reportedly been seen during electrical storms, walking on ancient pathways, crossroads or places of execution, and in folklore representing a coming death. I imagined what it would be like to encounter one of these "Black Shuck Hounds'' with glowing red eyes. It would be a terrifying experience and Mouse Lane lends itself to being a perfect setting to come face to face with one of these Black Hounds. I have slightly tailored the story of these Hounds, in being helpful spiritual guides, leading lost spirits along lay lines and pathways to where they need to make their final transition to either Heaven or, if unfortunate, to Hell. This album does have a slightly darker feel compared to the other albums I have written, it's something that I wanted to capture and to be a contrast from the ''Heavenly Mortals'' album, but there is no intention of promoting evil, just real emotions and a sadder aspect to life.
An additional inspiration to the title song on this album is my love of dogs. Growing up I didn't have any experience of knowing what it was like living with a dog as an additional member of the family, because of my parent's preference for cats. However in later years a close friend of mine owned a delightful dog called Cassie, who was very much a mixed breed with wonderful black and white markings and who adopted me in being a her friend in a very short time. Because of this I could understand why people have such a love for dogs and with Cassie I was smitten, always marvelled by her sensitivity, love and tremendous loyalty for me and the title song on this album is dedicated to her.
This album also captures my love of the countryside and village life, bringing to the table folklore, harvest moons, the change of seasons and of course including weather and dramatic skies, with songs such as ''Falling Like the Snow'' ''The Coming Storm'' and ''Winter's Sky''. Over the years I have really enjoyed visiting Pete's studio in Steyning which I have been doing since 2006 when Pete moved there from Hove. I catch the bus from Brighton to Steyning and just sit back, relax, and enjoy the view, thinking about what I needed to do when I get to the studio. Once I'm in Steyning I will usually treat myself to a Cornish pasty at Truffles, a well know and liked bakers which also has a restaurant/coffee shop which serves a great English breakfast. Then I'll walk up to the studio, either up Mouse Lane or through the adjacent fields which has a wonderful backdrop of the downs stretching far into the distance towards Chanctonbury Ring. On the many occasions I have walked through these fields I have seen wild pheasant, foxes, badger, loads of rabbits and also horses that reside in the fields. If it was possible for me to move to the country I would at the drop of a hat. I have always wanted to live in a two up and two down cottage and there are plenty of those in Steyning, nothing grandeur, just something simple and homely. This is an album that captures most topics and emotions and in many respects is quite commercial in a Kevan Koya sort of way.
Just before turning off Mouse lane to Pete's studio there is a commemorative plaque with a poem written by John Stanley Purvis (using the name Philip Johnson). The poem is called "The Lane from Steyning to the Ring"
The Lane from Steying to the Ring
I can't forget the lane that goes from Steyning to the Ring
In summer time, and on the Downs how larks and Linnets sing,
High in the sun, the wind comes off the sea, and, oh, the air
I never knew till now that life in the old days was so fair,
But now I know it in this filthy rat-infested ditch,
Where every shell must kill or spare, and God only knows which,
And I am made a beast of prey, and this trench is my lair,
My God, I never knew till now that these days were so fair,
And we assault in half-an-hour, and it's a silly thing:
I can't forget the lane that goes from Steyning to the Ring
John Stanley Purvis in the 5th Battalion Yorkshire Regiment, wrote this poem on the 2nd December 1915 in a trench behind the Somme. Many time when I walked up down the lane that goes from Steyning to the Ring which begins at Mouse lane I'm reminded of this poem. It mentions in this poem the Ring which is a ring of beech trees on top of Chanctonbury Hill. It's a delightful area with the Chanctonbury Ring an 18th Century copse silhouetted in the distance. The great storm of 1987 which raced northwards up through Sussex and then charging through the rest of England destroyed most of the beech trees on Chanctonbury Hill, however these trees were later replanted to bring back the Ring to its previous glory. Chanctonbury Ring was originally a small hill forte in a commanding position looking across the weald to the north. Pottery found and carbon dating on an animal bone, suggested the fort was built in the early Iorn Age in the 6th to 5th centuries BC, but some Bronze Age pottery has also been found on the site. Local legend has it that Chanctonbury Ring was created by the devil and that he can be summoned by running around the clump of trees seven times anti-clockwise. Doesn't sound a very good idea to me…
Blackwish Hounds Album Cover Varying Designs
At the beginning of 2016 I sent 3 of my songs to Phil Taylor in preparation for a recording session that was to take place on 4th of March 2016. These songs were ''Searching for UFO's'' ''The Black Wish Hounds'' and ''Pulling Me Under'' . This was the first time that I had arranged such a session and I'm pleased and thankful that I did. Phil Williams who has played bass guitar on many of my songs was wonderful in helping make this recording session happen. Phil Williams, Michael Casswell, Phil Taylor and Tim Bye regularly work together and it was suggested by Phil Williams that they record these three songs at Phil Taylor's studio in one recording session. I thought this was a brilliant idea, knowing that these four musicians work so well together and this would contribute in giving the songs more of a band feel. It really was the first time a ''band'' had played my songs and the results were amazing! Phil Taylor engineered this recording project and also offered to play the keyboard parts with Phil Williams on bass guitar, Michael Casswell playing all the guitars parts and Tim Bye on drums. I obviously had no idea or reason to believe that this was going to be the last recording session that Michael Casswell would do for me. Just over six month after doing this recording session on the 30th September 2016 Michael tragically died. I feel grateful for all that Michael has done for me and grateful that I said yes! to this very special recording session. Here are a few photos taken by Phil Williams of that recording session. The song ''Searching For UFO's '' mix 4 is now released on my YouTube channel and website.
The musicians who played on this album are: Michael Casswell - guitars, Phil Williams - bass, Phil Taylor - keyboards, Tim Bye - drums, Richard Naiff - piano and Andy Ellis - guitars and of course me doing all the vocals and pad keyboard parts.
Top 3 photographs were taken during the recording session of 3 songs from my album The Black Wish Hounds. Photos taken on 4th March 2016.

The Black Wish Hounds track listing
The Black Wish Hounds, Give This Love a Chance, I Want to Live, Falling Like the Snow, Pulling Me Under, Angel, I Miss Your Love, Harvest Moon (Beautiful Moon), Searching for UFO's, Walking With the Ghost (instrumental), The Coming Storm, We've Found Love, There Must be Something More (Song For Michael), Winter's Sky, Throw the Rose, Shayah Ubah-Est (The Witch, A poem for the cover) It's No Surprise.
Incandescent Album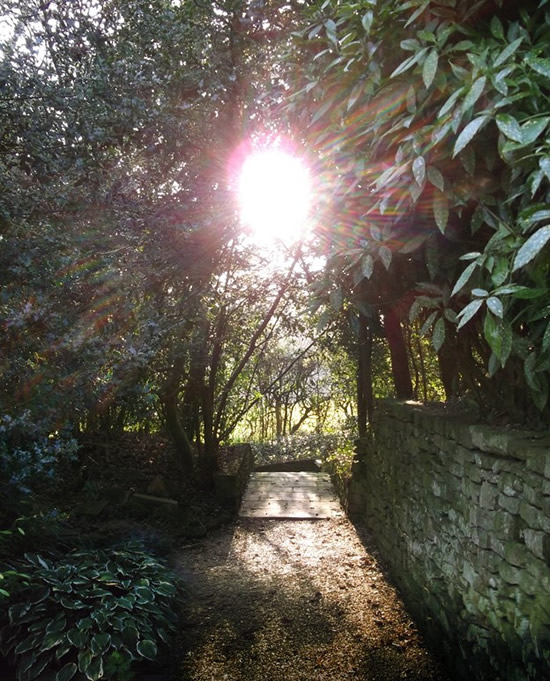 Photo by Kevan Koya
Since Michael Casswell's death I have put together a selection songs of which Michael has played on and this album is called Incandescent. This album is a tribute to Michael Casswell.
Credits
A very very big thank you to some very special people that I have known for a while that have contributed in helping enrich my music:
Michael Casswell - Guitar
MICHAEL CASSWELL 18th June 1963- 30th September 2016


On Monday the 3rd of October 2016 I received the very sad news of Michael Casswell's death and the feelings of loss and sadness that I feel are immense. My thoughts and sympathy go out to all of his family, friends and fellow musicians who are trying to come to terms with this tragic and great loss.

The first time I met Michael was late 1999 when I asked him if he would play guitar on my album 'The Only Living Thing On Mars'. He agreed and I was thrilled. I remember well that very first session, when he arrived at the studio looking every bit a 'Rock star' and what was striking about him was his warmth, kindness and his down to earth personality, immediately making me feel at ease . The moment Michael picked up his guitar to play I knew instantly that I was in the company of a very gifted and talented guitarist and over the years he has never faltered in bringing out the best in my songs adding something very special. I'm really grateful to have known Michael and very privileged as a song writer to have had him play guitar on my songs. Michael will always have a lasting place in my thoughts and heart.

RIP Michael
Kev
X
Big thank you to Michael Casswell who has played all the guitar parts on 2 of my albums 'The only living thing on Mars' and 'Heavenly Mortals' and a few other tracks in between.

Not only was Michael a highly acclaimed and accomplished guitarist (in other words Brilliant!) but also a talented singer songwriter and producer.

In the mid 90's, just before the untimely and tragic death of drumming legend Cozy Powell, Michael wrote and produced the last Cozy Powell album titled 'Especially for you' which was released on Polygram records.

Michael had a very impressive and extensive musical history, touring with some of the greatest names in the music industry such as: the Queen guitarist Brian May, Ronan Keating, Rosy Royce, Cozy Powell, UK based Japanese blues guitarist Saiichi Sugiyama (musician), Dean Freidman, Limahl (Kajagoogoo), Rhino's revenge band (bass player and drummer from Status Quo) and many more.

Michael's playing has been heard on countless TV ads, jingles, theme tunes and in the late 80's William Friedkin film 'To live and die in LA'.

Michael's extreme ability in mastering the guitar was such that there was nothing he couldn't play, from country to heavy metal, funk to swing jazz. Whatever song needed guitar parts adding Mike could play it.

I personally feel that one of the contributing factors that made Mike such an excellent guitarist was his ability to interpret with tremendous thought and sensitivity to what a particular song needs, not only in the style and technique of playing but also finding the right sound.

Every time Michael popped down to the studio he never ceased to amaze me at his care and professionalism in his guitar work, bringing the songs to life with his own unique style of playing.
Phil Williams - Bass
I would like to say a very special thank you to Phil for playing bass on my latest album 'Heavenly Mortals'. Phil is an exceptionally talented bass guitarist and musician, a true professional and a great pleasure to work with.

Phil is co-founder of The Satellites studio team and is also a long-term member of Tony Hadley's band. His experience in the live field is all-encompassing, ranging from world tours with Kim Wilde in the early 90's, to 'We will rock you' in London's West end.

Phil has served as a corporate musical consultant for Sony international's corporate events. He has also worked with Keith Emerson, Squeeze, Go West, Roger Daltrey, Rick Wakeman, ABC and Gary Barlow and is an active member of The Satellites studio team. His experience spans sessions work and composition for soundtracks, advertising, television and radio and has recorded bass guitar DVD's for 'Lick Library' and product endorsement for Yamaha spanning over 10 years.
Tim Bye - Drums
A very special thank you to Tim for playing drums on my latest album 'Heavenly Mortals'. Since working on this album I have had the great pleasure of working with such fine and professional musicians, Michael Casswell, Phil Williams and Tim Bye. Tim is also an exceptionally gifted musician, a great drummer and a pleasure to work with.

Tim began his career with Universal signings Un-Amercian, who toured the states throughout the 90's and were chosen by Pete Towsend to support The Who at Madison Square Gardens and the Hollywood Bowl.

Since then he has been very busy on the UK session scene, carving out a great reputation for his feel and song-driven approach. He works alongside other core members of The Satellites regularly, both live and in the studio.
Richard Naiff - Piano/Keyboards
A very big thank you to Richard Naiff.

Richard is an exceptionally talented pianist and flautist and has performed with the bands Soulsec, The Waterboys, Icicle Works and the Catacoustics to name but a few.

During the summer of 2009 Richard played the piano part to a song I'd written called 'I believe in you'. Since then he has played piano on another three songs from the Heavenly Mortals album 'Winters sky', 'Down to earth' and 'If only you knew'. These remaining tracks from the 'Heavenly Mortals' album will be released some time this year.
The photograph on the left is my friend Andy Ellis thinking about how many guitars to cover the floor with. To the right is the recording session of 'Sail Away' and 'Angel' with Richard Naiff and Andy in Pete Varkala's recording studio.
Andy Ellis - Guitar, Web
Big thank you to Andy Ellis who has designed this web site is also an exceptionally talented and gifted guitarist and has put down additional acoustic guitar parts on two tracks for the forthcoming 'Heavenly mortals' album.

Andy has spent the last few years working on a project with singer songwriter Abbo and plays alongside Paul Roberts (legendary ex Stranglers front man) for their band Soulsec, having recorded their latest brilliant album 'End Games'.

Also Andy is a very well respected guitar tutor having many pupils of all ages under his wing, has taught at the Brighton Institute of Modern Music , published tuition books for the Xtreme series with Sanctuary Publishing / Music Sales Group and recorded instruction videos for ShowMeHowToPlay.
Pete Varkala
Pete Varkala I have known for quite a few years now. He is an exceptionally gifted producer, recording engineer and songwriter and a very competent and versatile musician playing guitars, bass guitar, piano and I'm sure I've seen him put his hand to playing the drums to.

Combining his talents with musician and songwriter Brian Powell and under the flag of their company 'KLIKTRAX' they composed bespoke pieces of music for film and television and supply many publishers and libraries as well as corporate clients.

I first met Pete in the late 90's. I had just completed writing an album called 'Stranger to love' and was then looking for a studio and producer to begin work recording this album.

I arranged a meeting with Pete at his recording studio to discuss the album and the ideas I had for it's production. Within a very short time of our meeting I knew Pete was the right person to record 'Stranger to love'. Since then I have recorded another two albums with Pete 'The only living thing on Mars' and 'Heavenly mortals'.
In all the times I have recorded with Pete I have felt that he has had a tremendous amount of respect for my work, listening to possible ideas that I may have and using his own ideas to bring out the best in the material. It's always a great pleasure working with Pete and I very much value his professionalism and judgment. If something doesn't work or sound right, he will say, which helps me feel more relaxed in being able to trust his opinion to strive for and to achieve the best results.
I remember in 2004 doing a recording project of a song called 'Please don't cry' which was accompanied by an extended instrumental version totaling eleven minutes in length which was to be used as a backing track for a video to promote a charity, based in Africa helping orphaned children called 'The friends of Sanyu'. It turned out to be the most difficult recording project that I have ever done, fraught with problems and being faced with so many challenges that at one stage I didn't think it would be possible to finish and it was very nearly scrapped. But stubbornly I wasn't going to be beat, I kept convincing myself that I knew I could do it but also thanks to Pete's understanding, support and encouragement the project was completed, leaving me feeling utterly exhausted but pleased with the end result.
The extended instrumental piece is probably one of my favourite pieces of work, with Michael Casswell's exceptionally haunting and wonderful guitar work, being the centre piece that runs through the whole track changing in mood and feel as it follows the changing structure and arrangement of the piece. Also what gave this piece an additional touch was Richard Holmes' superb piano playing. The combination of guitars and piano worked beautifully. It's a very dramatic piece of work and will be included on the re-released album 'The only living thing on Mars' which will be digitally re-mastered and will also include some other new tracks.
A photograph of myself with Richard Holmes
during the recording session of 'Please don't cry'

Michael Casswell during the
'Please don't cry' recording session
Richard Holmes has worked for the BBC and is an established recording artist and musical arranger / composer and on many occasions has worked at Abbey Road studio.
Doug Scarratt - Guitar
Doug Scarratt has played guitar on three of my albums 'Hello America', 'Bad boys' and 'Stranger to love'. Doug is an exceptionally talented and gifted guitarist and songwriter that I have had the pleasure of knowing.

Now very much an established member of the legendary heavy metal band Saxon who have a strong and devoted following throughout Europe and America.

My personal favourite tracks that are embellished with Dougie's superb guitar work are 'Angry at the world' and 'One more day' from the 'Stranger to love' album and both title tracks from the albums 'Hello America' and 'Bad boys'.
Richard Thomas and Jeff Daniels
Special thanks to Richard Thomas. This year 2017 I am releasing songs from one of my earlier albums called 'Bad Boys' and I give my thanks and appreciation to Richard for recording these songs at his studio. After 27 years they still sound great!
I will always be deeply grateful to Jeff Daniels introducing me to Richard Thomas and for Richard's kindness in giving me the breathing space to develop my skills as a singer songwriter. If it wasn't for Richard's help in the very beginning stages I might not have achieved what I'm doing today. I sometimes feel it's been a very long but interesting journey in development to get to what I think are my strongest pieces of work 'Heavenly mortals' and 'The Black Wish Hounds'.


Copyright Kevan Koya ©

Last Updated 26/11/2018